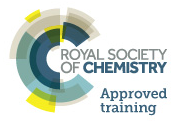 We are very pleased to announce approval of our Agilent GC training courses by the Royal Society of Chemistry for CPD.
These are practical hardware and software courses which are based both within classroom and laboratory environment, with a maximum of 6 people.
The Agilent GC with OpenLAB ChemStation is running at The Open University in Milton Keynes on 30th April – and this can be attended as a full 4-day course, or the individual 2-day hardware and software courses. Find out more and register here.