Submitted by webmaster on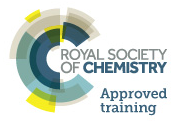 We are delighted to announce approval of our Agilent single-quadrupole and triple-quadrupole GC-MS training courses by the Royal Society of Chemistry for the purposes of Continuing Professional Development (CPD).
The GC-MS hardware training provides fundamental theoretical, maintenance and troubleshooting knowledge of each type of GC-MS, with practicals which focus purely on these Agilent MS instruments.
Training on the GC-MS software teaches the operate how to use the Agilent MassHunter or MSD ChemStation software and the optimal workflows for it, with practical exercises taking place on computers in the laboratory or laptops in the classroom.
These CPD-approved courses take place as scheduled courses and all of them can be taught onsite, with tailoring as required.
Comprehensive GC-MS Training (Agilent SQMS with MassHunter) - register now for 1st October
Comprehensive GC-MS Training (Agilent SQMS with MSD ChemStation) - register now for 21st January 2019
The Comprehensive GC-MS (Agilent QQQMS with MassHunter) is available as on onsite training – find out more.
The Royal Society of Chemistry's CPD approval process is one of peer review, involving assessment to a set of criteria by experts in their field. The course content must adhere to rigorous quality standards, provide relevant course content and must demonstrate the continual appraisal and improvement of the course. The assessor reviewing the courses found them to be "well-constructed, well-managed and well received."
The majority of our analytical training courses are approved for CPD by the RSC. We offer training on a variety of manufacturers' instruments and software. See our manufacturer-specific training pages for the full list of courses available.
For a full list of CPD-approved training courses available, visit the Royal Society of Chemistry's searchable CPD database.