Submitted by webmaster on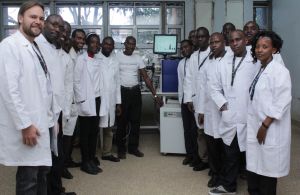 Anthias Consulting Trainer and Consultant Dr Giles Edwards is presenting a week-long course on liquid chromatography–mass spectrometry (LC-MS) in Nairobi, Kenya.
Training commenced on Monday 18th September and is being delivered by Dr Giles, who authored the course and Prof Anthony Gachanja from Jomo Kenyatta University of Agriculture and Technology, as part of the Royal Society of Chemistry's Pan African Chemistry Network.
This is the first training in Liquid Chromatography delivered through the PACN programme. A total of 12 participants drawn from Kenya, Nigeria and Ghana are attending the training, which covers the operation of the instrument, application method development, troubleshooting and maintenance.
The classroom sessions form the basis of the Anthias Consulting 5-day Complete LC & LC-MS classroom-based course, which is run as a scheduled course at The Open University in Milton Keynes, UK. The next date is 13th – 17th November 2017 – register now. The practical sessions will form the basis of the new Anthias Consulting 5-day Hands-On Complete LC & LC-MS laboratory-based course which will take place at The Open University in February 2018 – register your interest now.
The next courses in the RSC's training programme in Africa is a GC-MS course taking place in Ethiopia in October and in Nigeria in November. To find out more about these courses, visit: www.rsc.org/events/africa.