Submitted by webmaster on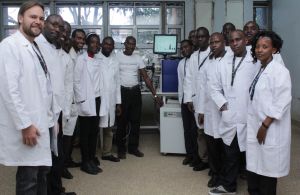 Anthias Consulting Trainer and Consultant Dr Giles Edwards is presenting a week-long course on liquid chromatography–mass spectrometry (LC-MS) in Nairobi, Kenya.
Training commenced on Monday 18th September and is being delivered by Dr Giles, who authored the course and Prof Anthony Gachanja from Jomo Kenyatta University of Agriculture and Technology, as part of the Royal Society of Chemistry's Pan African Chemistry Network.
This is the first training in Liquid Chromatography delivered through the PACN programme. A total of 12 participants drawn from Kenya, Nigeria and Ghana are attending the training, which covers the operation of the instrument, application method development, troubleshooting and maintenance.
Dr Giles has received excellent feedback from the delegates:
"The LC-MS workshop was definitely the best workshop I have ever attended. Dr.Giles' presentations were informative, inspiring and his delivery very easy to comprehend. I particularly enjoyed the practical sessions where he let us (participants) do real-time runs and even troubleshooting (with guidance of course). This hands-on approach made me feel like I might be able 'to do this'. I have since started applying what I learned in my academic research, with incredible results so far. "

Josephine Ouma, Msc. Chemistry Student- JKUAT.
"The LC-MS training was very comprehensive as Dr Giles really simplified the whole course contents and makes it very interesting. The practical sessions were 100% hands-on, as we were given technical know-how on the maintenance of different components of LC-MS. The method developments were concise with necessary basics. I am greatly imparted with the whole sessions - practical and theory. I have since started sharing all the techniques learnt with my colleagues and students. The materials /literatures given to us are so precious and indispensable as all of us at Pharmaceutical Chemistry Department, Faculty of Pharmacy, University of Lagos has greatly benefited from it. "

Adegoke Adesina O. Technologist / Researcher, University of Lagos, Nigeria.
LC & LC-MS Training with Anthias Consulting
The classroom sessions form the basis of the Anthias Consulting 5-day Complete LC & LC-MS classroom-based course, which is run as a scheduled course at The Open University in Milton Keynes, UK. The next date is 13th – 17th November 2017 – register now. The practical sessions will form the basis of the new Anthias Consulting 5-day Hands-On Complete LC & LC-MS laboratory-based course which will take place at The Open University in February 2018 – register your interest now.
The next courses in the RSC's training programme in Africa is a GC-MS course taking place in Ethiopia in October and in Nigeria in November. To find out more about these courses, visit: www.rsc.org/events/africa.