Submitted by webmaster on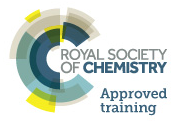 Our scheduled training courses run regularly at The Open University in Milton Keynes, UK. Here is a snapshot of courses running in March 2018.
Don't miss out, register now and improve your knowledge and results in these techniques.
Our training courses have a strong practical and application focus, with lots of tips. You will benefit from highly engaging face-to-face training delivered by practicing analytical chemists with current skills.
Many of our courses are approved by the Royal Society of Chemistry for purposes of Continuing Professional Development (CPD).
| | | | |
| --- | --- | --- | --- |
| Date | Course Title | Days | Register |
| 05/03/18 | Applied Deconvolution (NIST AMDIS) | 2 | Find out more |
| 07/03/18 | Mass Spectral Interpretation | 3 | Find out more |
| 12/03/18 | Comprehensive GC-MS Training (Agilent SQ MS with MassHunter) | 5 | Find out more |
| 12/03/18 | Comprehensive GC-MS Hardware Training (Agilent SQ MS) | 2 | Find out more |
| 14/03/18 | Comprehensive GC-MS Software Training (Agilent MassHunter for SQ) | 3 | Find out more |
| 19/03/18 | Hands-on Sample Preparation | 5 | Find out more |
| 19/03/18 | Hands-on Headspace | 1 | Find out more |
| 20/03/18 | Hands-on Solid-Phase Micro-Extraction (SPME) | 1 | Find out more |
| 21/03/18 | Hands-on Thermal Desorption (TD) | 1 | Find out more |
| 22/03/18 | Hands-on Pyrolysis | 1 | Find out more |
| 23/03/18 | Hands-on Purge-and-Trap | 1 | Find out more |
| 26/03/18 | Comprehensive GC Training (Thermo TRACE GC with Xcalibur) | 4 | Find out more |
| 26/03/18 | Comprehensive GC Hardware Training (Thermo GC) | 2 | Find out more |
| 28/03/18 | Comprehensive GC Software Training (Thermo Xcalibur) | 2 | Find out more |